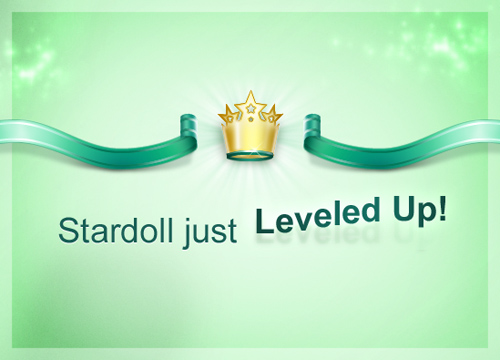 Q: My Starpoints are gone! Where are they?
A: Don't panic! You still have the EXACT SAME amount of Starpoints as you always did, we've just made a change to how you see them. Before we showed you how many total Starpoints you had and now, we show you what level you are based on your amount of Starpoints. And from what I hear, you can even score some really awesome hairstyles even faster…
Q: Where can I see how many points required to reach level X? I NEED to know how many Starpoints are required to reach level X in order for me to calculate how long it will take me to get there.
A: I admire your dedication! But you can only see the amount needed for next level. If you are level 13 you will know how many Starpoints you need to become level 14. But I wouldn't worry too much right now about trying to figure out how long it will take you get to a particular level. In the very very near future we will be releasing new and cool ways to level up even faster!!!
Q: I want to level up faster.
A: Who doesn't? Luckily for you we will be releasing some new (very hush hush) ways to level up faster! Sorry, I can't spoil the surprise just yet…
Q: How can I level up?
A: You need to earn Starpoints in order to level up. As of right now, the only way to do this is by doing the daily tasks. You can click on your Starcoins in your profile card to see the list or visit
Earn Starcoins.
Hint: Stay tuned to the site for a new great way to earn Starpoints!
Q: I have more Starpoints than my friend, why do we have the same level?
A: Each level includes range in the amount of Starpoints you can have. So all users having between 246 and 287 Starpoints are level 13, but as soon as you (or your friend) get 288 Starpoints you will become level 14. So hurry up and make sure you are the first one to the next level!
Q: What is the number in the crown?
A: That is your current User Level, which is an easy way to show the number of earned Starpoints that you have.
Q: I hate Stardoll forcing me to level up on my avatar.
A: Stardoll is and always has been a free space to play and explore your unique style. You don't have to work towards leveling up if you don't want to, but we can't keep you from getting the level up bonus rewards. Sorry!
Q: This is exactly like world of warcraft! Except for the orcs. And elves. And the killing.
A: Well, I wouldn't say it is exactly like Warcraft… we still haven't released the Orcs and Elves extension pack! (Just joking of course!)
Q: Are Starpoint hairs gone?
A: No, all of the Starpoint hairs are still there except now they are "locked" to a level instead of a certain amount of Stardollars. You will find the hairs in the beauty parlor and if they have a crown with a number in it they are locked to that specific user level. We have not made it any harder to obtain new hair styles than before and in fact, you might get that dream hairstyle a little ahead of schedule. :)
Q: Where can I see my Starpoint rewards? The Earn Starpoints page is gone!
A: We are considering creating a new page where you can see unlocked and upcoming awards